This is a sponsored conversation written by me on behalf of Jewel-Osco. The opinions and text are all mine.
If you're like me, you actually like cooking around the holidays. The act of putting on your apron (you wear an apron, don't you? – I'm looking at YOU TOO GUYS!) and flitting around the kitchen checking on baking times, folding egg yolks into batter, and frying up something good is one of the most therapeutic things that I can do. However, grocery shopping around the holidays is not. I usually love my grocery store runs. Going down each and every aisle to see what's new, or what I want, but when the week of Thanksgiving hits – it's like a madhouse. That's why I'm so happy that Jewel-Osco now provides delivery service. Mostly because the store is a mile away from my house, so I'm guaranteed that I'll have my groceries delivered within an hour of having them pulled off of the shelf.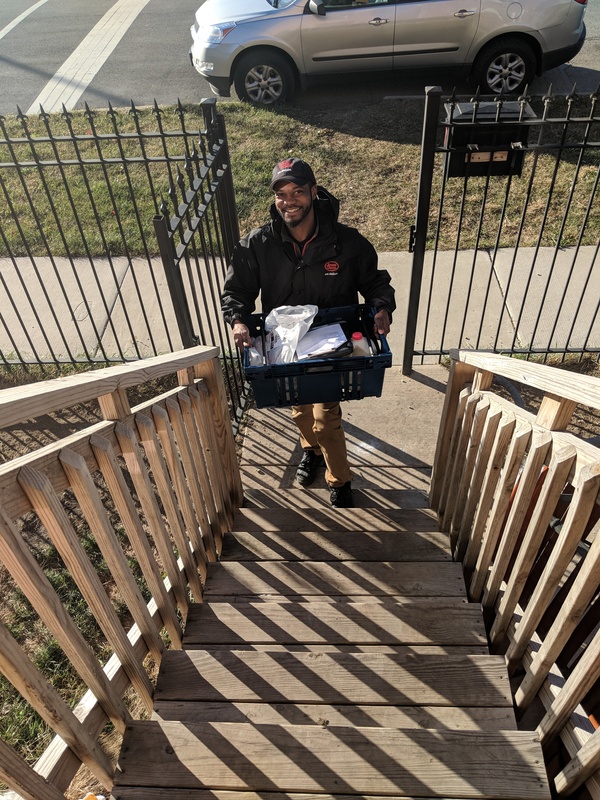 When I was first looking into this, I was bemoaning the fact that I wouldn't be able to maneuver around the order site. Wrong. You can shop by aisle – what I do anyway, and you can schedule delivery to YOUR preference. They have 1, 2, or 4 hour windows, AND same day delivery as long as you order by 1:00 pm. Delivery windows are available 7 days a week, and you can start as early as 7 in the morning or go as late as 10 in the evening. If having your groceries delivered right to your front door (shout out to not having to unload your own car with kids in it!) then you can choose Drive Up & Go at certain locations. That way, you STILL don't have to step foot into the holiday grocery shopping madness. Here's the schedule for ordering at the time that is most convenient to you.
Order before 3:00 am for delivery between 7:00 am and 10:00 am (hey night owl!)

Order before 5:00 am for delivery between 11:00 am and 4:00 pm (hey early bird)

Order before 1:00 pm for delivery between 5:00 pm and 10:00 pm (hey me!)

Home delivery fees vary by delivery window, but are typically:
For those of you who stick to strict meal plans, you can even shop by history. I know that I am in need of a certain type of butter for my coffee and a certain type of butter for my baking, so I can keep both of those on my history and not worry about anything. I also don't have to worry about keeping that butter cold either. The delivery trucks are equipped with freezers and chilled departments so everything stays at the temperature it should until it gets to my front door. Quite honestly, that's better than I can do sometimes. Especially when I'm running errands, and decide to get something frozen that wasn't on my list and don't remember until it's a soggy mess when I get home and unload.
Need extra incentive? You can receive Free Delivery on your 1st order with $30 minimum purchase required (Promo Code: FREE valid on orders placed until 2/28/18.) Delivery fees are as follows:
1-hour delivery window: $5.95 on purchases of $150 or more, $7.95 on purchases under $150

2-hour delivery window: $2.95 on purchases of $150 or more, $4.95 on purchases under $150

4-hour delivery window: FREE
– Drive Up & Go™ offers free curbside pickup
No separate service fee for Drive UP & Go, beyond what customers pay for groceries
We're making butter cookies as parts of Christmas gifts this year, Mor Mor Baby's specialty that I'm trying, and I'm not sure if you've ever seen the looks on faces of folks when you're clearing a bunker of butter. I'm so happy that an employee could do it, so it looks like they aren't being as butter hungry as I am. This service also allowed me to continue with baking instead of having to turn my stove off and restart when I came home. I'll be sharing that butter cookie recipe with you later this week, so you'll want to tune in! Until then, check out more about Jewel Osco grocery delivery, and get ready to ease your grocery shopping woes!